This year, Pick n Pay School Club joined forces with 'People Who Grow Food' (PWGF) and the Department of Education Tshwane District, to create a food garden at Phumzile Primary School in Soshanguve.
PWGF is a food garden initiative to grow, feed, educate, store and sell food for schools, while creating jobs, to become completely sustainable and ultimately self-sufficient.
Over the past year and a half, Covid lockdowns have negatively impacted learners' access to food, some parental income has decreased, and a strain has been placed on child-headed households. The reliance on food gardens for sustenance increased across the country, as reported by seed banks, and in light of this, Pick n Pay School Club decided to pilot a school food garden that would not only support learners, but their families and the broader local community.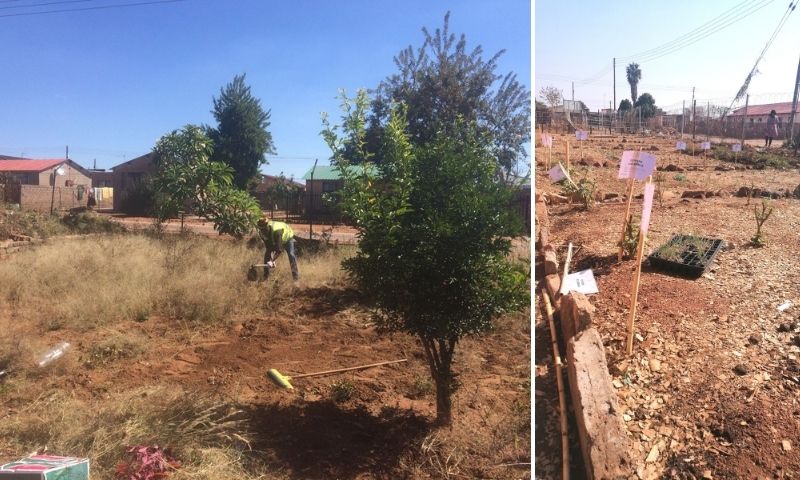 Phumzile Primary School serves 310 learners and offered sufficient space for the size of the food garden, to sustain students, parents, teachers and more. Sunlight, access to water and safety are the three main principles for selecting a school. While Phumzile did not have all three, their basic infrastructure, already available, lent itself to the installation of a food garden.
Food Gardens are an essential source of food with the additional options of job and income creation with hands on practical learning.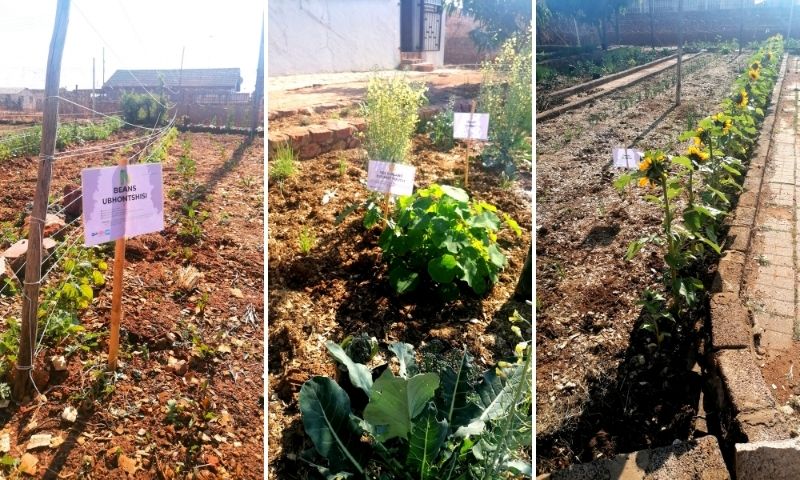 Plants
One plant per child, of each variety, multiplied by three will ensure sufficient produce to create healthy meals, store for out of season use and sell to the wider community, creating a circle of sustainability.
A harvest plan was created to include the main planting seasons of warm and cold growing varieties delivering a full cycle of learning and knowledge transfer – a one-year programme which will be completed in February 2022. The seedlings are grown at PWGF's nursery whose land is sponsored by Teranga Stables, until the plants are weathered sufficiently to be transplanted and able to survive various weather systems and environments. Phumzile Primary received 4000 plants for their first garden.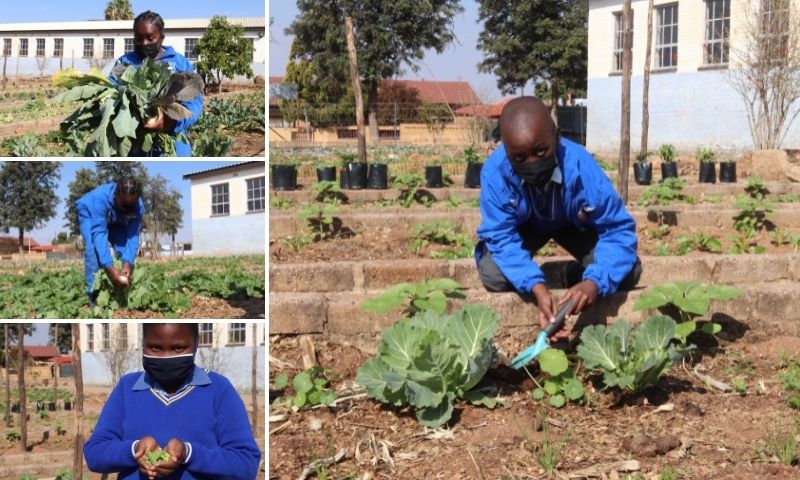 Principle 1: Safety
A food garden should be protected from free roaming animals and any other unwanted visitors. Pick n Pay School Club, PWGF and a local wholesaler, Kit Kat, combined funds, and effort to construct a fence, offering the school safety for the first time in 20 years.
Principle 2: Water
An independent water system had to be installed to let the garden run separately to that of the school's system. A rainwater catchment system is the most cost efficient, but the rainwater table has to be considered when deciding between a rainwater catchment or borehole system. A borehole system was installed at the school, a high investment but one that will offer longevity and sustainability. Macal Farms assisted with the pump installation and water irrigation system design.
Principle 3: Sun
Some plants (tomatoes) require more sun than others (lettuce) and this will dictate where you will focus your main crops. Teranga Stables donated poles to erect a large number of shaded areas spaced in 3m x 3m squares.
School Preparation
The selected areas for the food garden had to be stripped by removing old plants, turning the soil, and leaving it for several days to remove all diseases and pests. The dry, arid soil required a large amount of compost and fertiliser which was supplied by PWGF. Compost helps the soil retain moisture, which is essential for vegetable gardens to thrive during hot, dry summers.
Plant Installation
The installation of the plants was done based on companion planting principles. Companion Planting (Allelopathy) is based on the principle that certain plants can attract or repel insects or provide beneficial support to other plants. It can also work the other way around where one plant can be detrimental to another's growth.
A number of plants have been allocated, and signs reading SEED PLANT installed, for seed saving, so the school will not need to purchase seeds in the new year. The focus crops for the Spring / Summer harvests are beans, corn, peppers, spinach and tomatoes with additional varieties as companion planting.
The School Feeding Scheme
PWGF saved produce from their own micro farm in preparation for the upcoming school harvest. This was used to train the kitchen employees in harvesting, preparing and storing the harvest, seed saving and an introduction to cooking with the focus on healthy additive free recipes.
Introducing new flavours, colours and vegetable varieties to children with limited home diets can be a challenge. PWGF together with the support of the kitchen staff created new recipes. The learners now receive four vegetable portions a day, five days a week.
No part of the plants has gone to waste. For example, the cauliflowers were turned into cauliflower rice, the leaves cooked off as Morogo and the stalks roasted and made into cauliflower soup. The school's freezer is packed with GLAD bags, donated by GLAD, containing sauces, starches, soups, and stocks.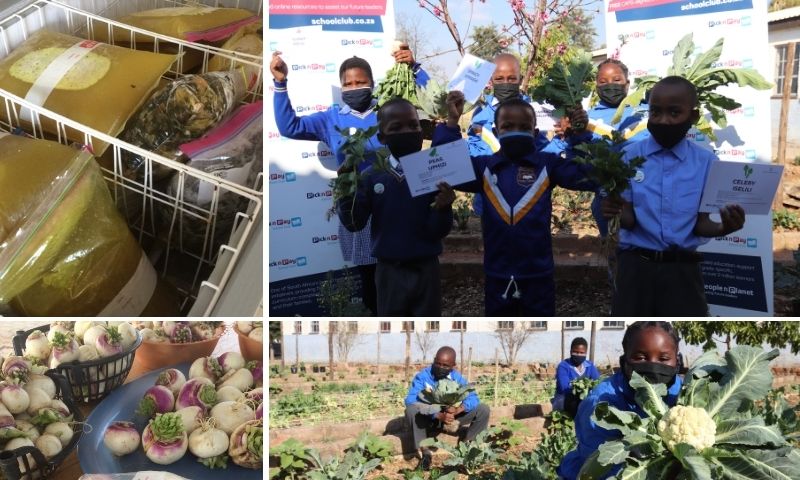 Creating Sustainability
A food garden requires a dedicated person to oversee the management and maintenance of the garden. At Phumzile Primary School, there is a current garden manager who will oversee the garden and run the store at the school. The school will sell a portion of the harvests to the local community helping the manager make additional income for herself and provide funding for the garden maintenance. A garden maintenance fund is required as there aren't sufficient weeds available to create fertilizer, chillies to create sprays for insects and the compost heap needs time for decomposition.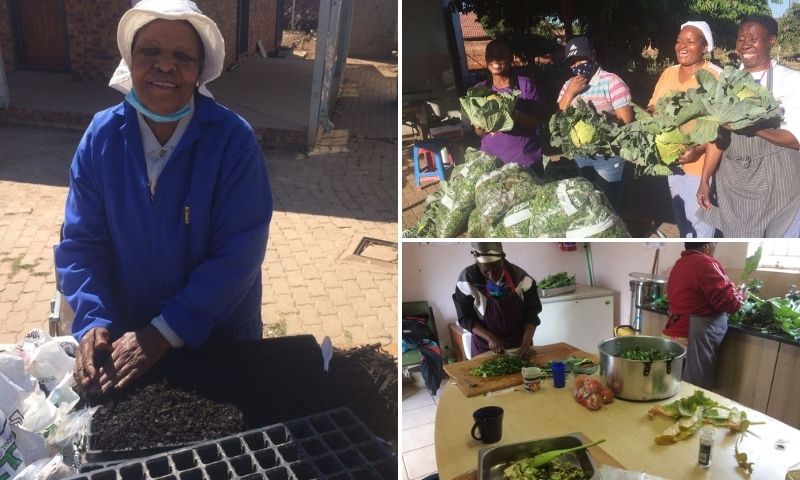 The maintenance of the garden will be run by a sprightly 78-year-old lady who will train and employ some of the orphans at her church to do the heavy lifting. A portion of the harvest has been allocated to her to sell for additional income and to pay her assistants. A local store has also offered to sell part of the school harvest to their clients on a trial basis.
Currently the kitchen staff are being trained on prepping harvests for cooking, storage, and the drying of herbs for future use. Education with regards to managing and sustaining not only food gardens in the school space, but also the use of those food items to eliminate as much food waste as possible, is vital.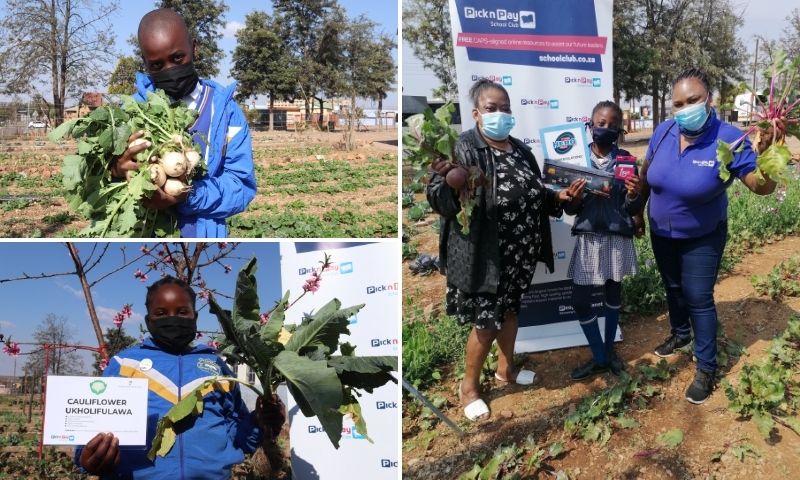 Each learner was provided with a Reel Gardening Groweez to take home and nurture. Seven garden beds have been allocated to each grade for their Groweez to be replanted in and looked after. 40 parents and teachers who showed interest in creating gardens at home were provided with basic seed packets.
A working manual has been created for the maintenance of the garden that includes all basic care directives, individual care guides, grow calendars, companion planting charts, recipes, and a storage guide for the seeds, plants, and food. The next step will be to incorporate practical learning of gardening into the learners' curriculum.
Four large areas at the school have been created for continuous harvest until 2022, Garden 1-4. The end goal is for the school to use the gardens to sustain the educators, learners, and learners' parents completely from February 2022.